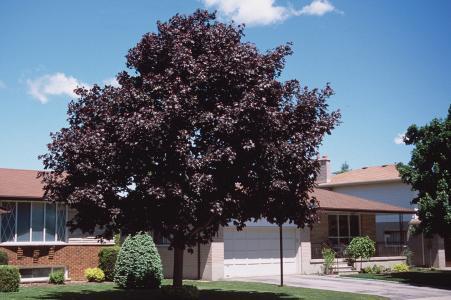 Crimson King Maple (Acer platanoides 'Crimson King')
Great choice for a large shade tree in front of a large home-site or to shelter a backyard. Best sized for boulevard and median plantings, public parks and institutional landscapes. Naturalizes well into coniferous woodland settings.
AND
Crimson Sunset Maple (Acer truncatum x A. plat. 'JFS-KW202')
Heat tolerance is the distinguishing characteristic of this Acer truncatum hybrid. Its foliage resembles that of Crimson King, but its form is more upright and compact. Thanks to the Acer truncatum parentage, it flourishes in the summer heat where few purple leafed plants will grow.
Mature Height: 40′ (Crimson Sunset 35′)
Mature Spread: 35′ (Crimson Sunset 25′)
Zone: 4
Sunlight: Full sun to part shade
Soil Preference: Easily grown in average, medium moisture, well-drained soil.  Tolerant of a wide range of soils.
Nurseryman's Notes: 'Crimson King' and 'Crimson Sunset' are red-leaved cultivars which are noted for rich maroon leaves that last throughout the summer and its purple fruits. Fall color is unremarkable in Crimson King. No serious insect or disease problems.
'Crimson Sunset' is tolerant of heat and drought and flourishes in climates with hot and humid summers.  More resistant to leaf tatter and scorch damage.  Fall color is a reddish purple.