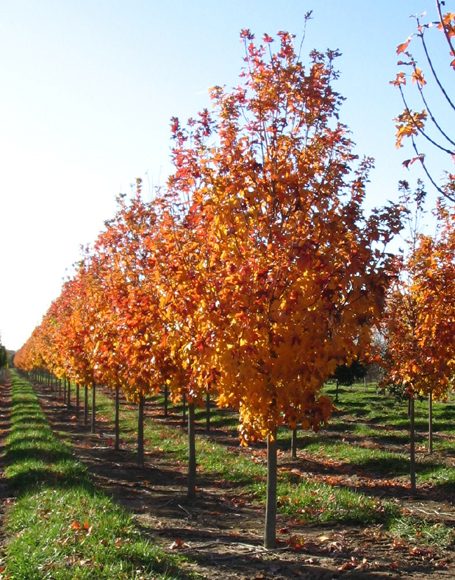 Fall Fiesta Sugar Maple (Acer saccharum 'Balista')
Fall Fiesta sugar maple have thick, waxy textured leaves, rapid growth rate for a sugar maple, and yellow-orange to orange red fall color in the Midwest.  This sugar maple makes beautiful specimen, adaptable to dry conditions and alkaline soils.  Great in back yards, parks, estates, farms, golf courses, and where a large specimen is needed.
Mature Height: 50′
Mature Spread: 40′
Zone: 4
Sunlight: Partial Shade to Full sun
Soil Preference: Prefers well drained, moist, acidic soil.
Nurseryman's Notes: Fall Fiesta is noted for its (1) vigorous and rapid growth rate, (2) upright, rounded, symmetrical form, (3) thick, leathery, glossy, deep green leaves with waxy upper surfaces and more truncate bases, (4) good resistance to leaf tatter and leaf scorch, (5) good resistance to summer heat, wind and drought, (6) fall color featuring more oranges and reds and (7) excellent winter hardiness. Leathery, dark green leaves (each to 6" long) turn excellent shades of yellow, orange and scarlet in fall.