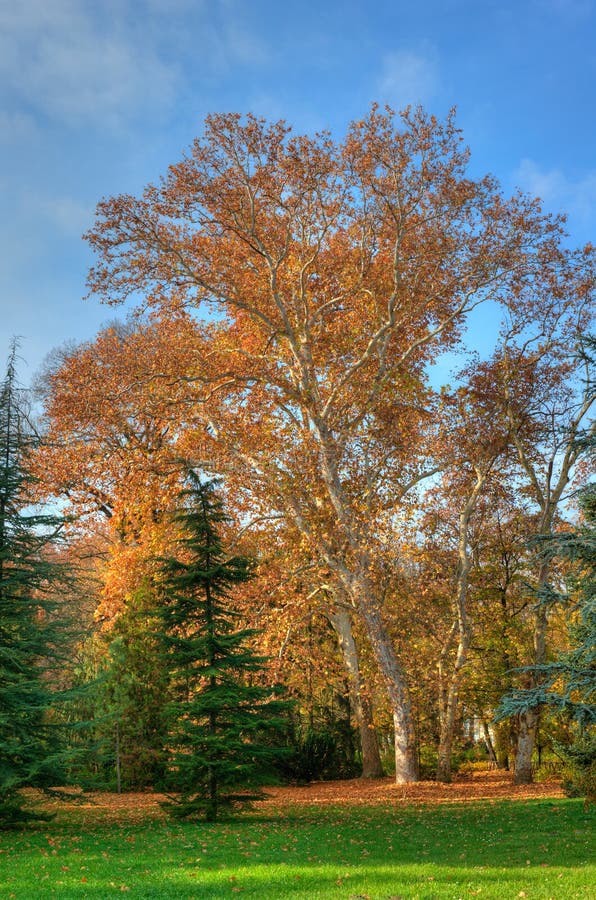 Exclamation! Planetree (Platanus x acerifolia 'Morton Circle')
A cultivar introduction of the Morton Arboretum and similar to the Sycamore tree.  As the tree matures, the exfoliating bark peals away for all season interest.  Large green leaves that look similar to maple turn yellow in fall.  Adaptable to adverse soil conditions, including; wet and dry soils.  Selected for it's uniform, upright-pyramidal habit.  It has a strong central leader and is densely branched with a moderate growth rate.  Cultivar shows resistance to anthracnose and frost cracking.
Mature Height: 50′-55′
Mature Spread: 30′-35′
Zone: 4
Sunlight: Full sun to partial shade
Soil Preference: Tolerant to a wide variety of soils, but prefers loamy, moist, well drained soils.  Tolerates wetter soils.
Nurseryman's Notes: A tough shade tree that can handle moist conditions.  Fast growing (18″ – 24″+ per year) with yellow to golden fall color. Few pest or disease problems and tolerant of tough, clay soils that can tend to "water log" in spring.  The bark, very similar to it's parent, the Sycamore Tree provides beautiful, creamy white bark that stands out in all seasons!  Exclamation! shows excellent resistance to anthracnose, which makes native Sycamore's drop branches and leaves throughout the growing season.